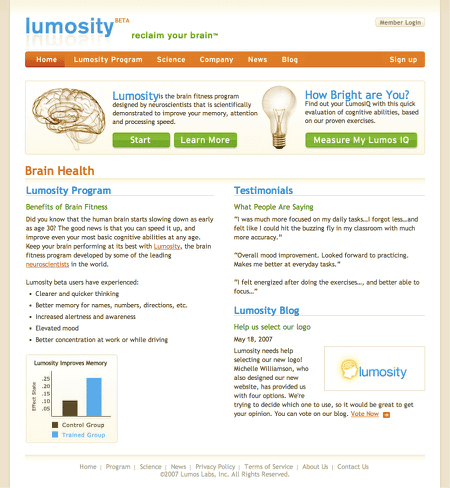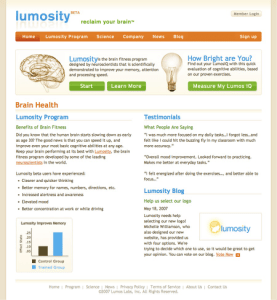 Most people are familiar with Lumosity – the 'brain training' program that claimed to delay cognitive impairment caused by aging, among other causes. However, Lumosity will be paying a $2 million settlement because of a recent judgment by the Federal Trade Commission ("FTC") that its claims were unfounded.
One of the major roles of the FTC is to prevent deception of consumers. They want the public to be able to make educated decisions regarding products they purchase and to know what they are looking at – for example, is the page they are viewing an ad or an informative page? If it is an ad, the FTC states that it needs to be identified as such.
In Lumosity's case, both their advertising and the information pages of their website suggested that their training program could provide a multitude of health benefits to users in all aspects of their lives. Unfortunately for Lumosity, it had no scientific research to back these claims, so the claims were judged to be deceptive towards the public.
The FTC takes deception of consumers very seriously, and in this case found Lumosity's claims could not be proven. Lumosity claimed the 'brain training' program would:
Improve performance in everyday tasks, in school, at work, and in athletics;
Delay age-related cognitive decline and protect against mild cognitive impairment, dementia, and Alzheimer's disease; and
Reduce cognitive impairment associated with various health conditions, and that scientific studies could back these findings.
A complaint was also lodged against Lumosity because they failed to disclose that some of their testimonials had been solicited through various contests the company had held.
In addition to the $2 million settlement, Lumosity will have to contact users and inform them of these charges. They will also need to provide users with the ability to cancel their auto-renewing memberships.
The FTC has not prevented Lumosity from continuing its programming or finding research that will support its current claims. Instead, the FTC order will require future advertising for the program to include scientifically backed facts only; or Lumosity can take a different route and opt to market its product in a completely different manner, just as long as the result of a new marketing plan does not suggest benefits which have no support.
For more information about the FTC, contact Revision Legal's Corporate attorneys through the form on this page or by calling 855-473-8474.